Family Raised Portuguese Water Dogs
20+ Years of Experience
AKC Registration
Transportation Available
From our home to yours
While today's pet market is saturated with amateur breeders trying to make a quick buck, we focus on raising happy, healthy puppies who will be loving companions for many years. This requires genetic testing, health checkups, and a lot of love and time. We are longtime dog people and have found joy in connecting families with their four-legged loved ones for over 20 years.
About PWDs
The Portuguese Water Dog (also called "Portie" and "PWD") has a vibrant history of serving fishermen along Portugal's coast, herding fish into their nets and delivering messages to shore. They were bred to be athletic, trainable, and fast swimmers. Today's PWD has retained those traits and is eager to be trained and exercised. This makes Porties excellent sporting and family dogs and a joy to be around.

Height: 17-23 inches
Weight: 35-60 pounds
Life Expectancy: 11-13 years
Coat: Wavy/curly, Hypoallergenic
Taking your puppy home
Our puppies are socialized from birth so that by the time you take your puppy home, they will be well-acquainted with children and other animals.
With each sale we make, our puppies are:
Cleared by a veterinarian
Up-to-date on immunizations
Dewormed
Sent home with shot records and registration information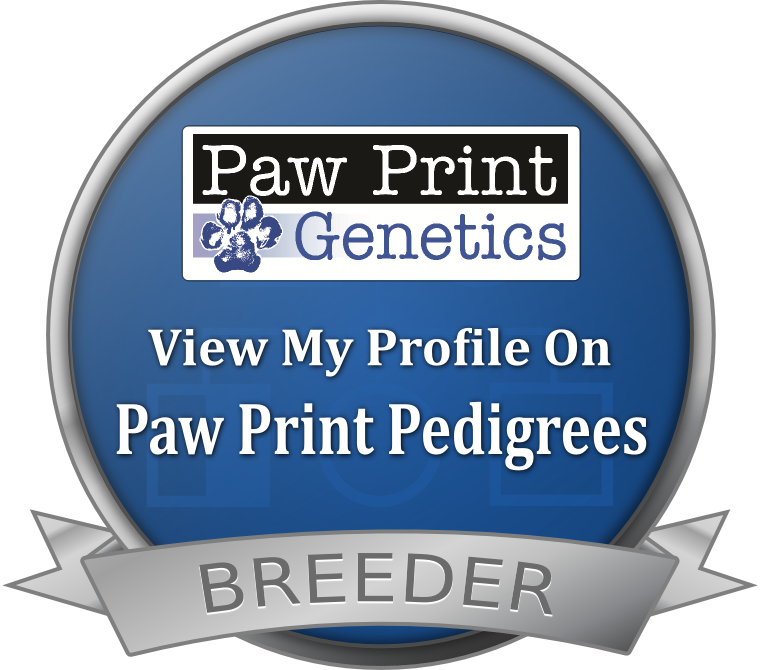 Genetic Testing
To ensure they won't pass congenital diseases to their offspring, all our adult dogs have been tested for GM-1 Gangliosidosis, Progressive Retinal Atrophy, and Progressive Rod-Cone Degeneration genes.
Comprehensive Pet Security
Each new puppy comes microchipped with a complimentary Global Pet Security (GPS) tag and profile. GPS is pet security structured around an online profile and QR code tag that attaches to your pet's collar. The online profile allows you to keep your pet's information in one place, from vaccine records and medical history to microchip registration and training details. If they go missing, a simple scan of their collar with a smartphone will alert you as well as show the person who finds them how to contact you.
Gut Health Support
All of our puppies are supplemented with high-quality Juru supplements beginning at four weeks of age. Juru works by strengthening their gut and microbiome. This supports overall health and immunity and keeps parasites at bay. We believe in this product and strongly recommend it for continued use.
Best Portuguese Water Dog Breeder of 2022
Visit our Homestead
We welcome visitors who would like to come out and meet our Porties. Call to organize a visit.
Call Us: (330) 401-1931
Hear from other dog-lovers
Read what others who have adopted from us had to say.
Our Process
Join the waitlist
We'd love to hear from you! You can join the waitlist by filling out our online form or calling us.
Wait patiently
Good things take time. Our wait time is up to 3 months or longer depending on gender or color preferences. We'll contact you when we have a puppy available for you.
Bring your new pet home
Once we've contacted you, it's time to choose your new family member! You can come pick them up, or we can organize shipping for you.
Join the Waitlist